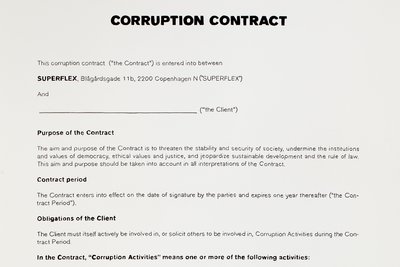 Corruption Contract aims to threaten the stability and security of society, to undermine the institutions and values of democracy, ethical values and justice, and to jeopardize sustainable development and the rule of law. By signing the Corruption Contract, the client agrees to actively be involved in or solicit others to be involved in corrupt activities during the contract period. The wording as well as the definition of corruption is based on the text of the United Nations Convention against Corruption.
Corruption Contract is a large, handwritten document. Through projects engaging with alternative models for the creation, dissemination and maintenance of social and economic organisation, SUPERFLEX has been involved in several legal disputes and has also been subject to prohibition orders and police raids due to their artistic use of commercial signs and symbols. However, finding that the restrictions placed on their work sometimes led to unexpectedly interesting results, SUPERFLEX began to explore the productive potential of prohibition and conceived a series of projects structured to impose regulations on others.
Legal consultation by Daniel McClean.