WWF Verdensnaturfonden and SUPERFLEX announce partnership on Super Reef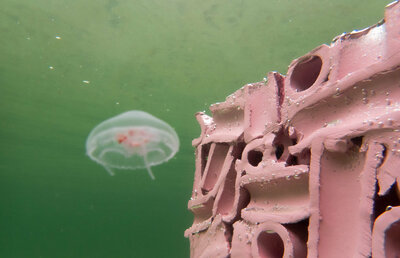 Art and nature restoration meet in a visionary new partnership between WWF Verdensnaturfonden and the artist group SUPERFLEX, which will restore a minimum of 55 square kilometers of lost reefs in the Danish ocean.
WWF Verdensnaturfonden and the artist collective SUPERFLEX join forces for Super Reef, a plan to restore a minimum of 55 square kilometers of reef which has been removed from Danish waters in just one century. Super Reef will create habitats for marine life and art for humans.
The partnership between WWF Verdensnaturfonden and SUPERFLEX combines nature restoration and art in order to build a bridge between life above and below the surface of the sea.
"When we place art on the reefs, it is to invite people into the life of the sea. Most of us never experience life below the surface. If we are to understand what happens in the sea, we have to bring the sea to us humans — and art can do that," says Rasmus Rosengren Nielsen, co-founder of SUPERFLEX.
The project aims to create awareness about the state of the Danish ocean while bringing people closer to the sea — both physically and mentally.
"Super Reef is a completely new way of approaching nature restoration. Art will create awareness of nature in the sea, and at the same time it will be a concrete effort to protect and restore marine nature. We want to remind the Danes of all the life that exists in the ocean: what we have lost as well as what we need to take much better care of," says Bo Øksnebjerg, secretary general of the WWF Verdensnaturfonden.
Super Reef gives back to nature
Right up until the 1990s, stone reefs were removed from the Danish sea to be used as building materials for human construction, for example, piers and harbours. Many animal and plant species live on and around the reefs, so as they have disappeared, the biodiversity in Danish waters has decreased significantly. When reefs disappear, habitats for many species of fish and marine life also disappear.
In other words, the seabed has been left as empty and barren as a desert, and this has worsened biodiversity, which is now struggling: seven out of eight of Denmark's most important ocean ecosystems are in bad condition. Species such as the eel and the cod are critically endangered and threatened, and the number of eelgrass beds has been greatly reduced. Super Reef will help change all that.
"Unfortunately, the nature of the sea tends to be forgotten because it hides beneath the surface. But marine nature is just as important as nature on land, and is also in poor condition," says Bo Øksnebjerg. He continues: "Super Reef gives something back to our marine ecosystems."
The reefs will be placed close to the Danish coasts, where they will create fertile ground for biodiversity. Reefs form cities for life under the sea surface, where fish can breed, mussels can attach to surfaces, and eelgrass can grow. Species such as cod, critically endangered eel, nudibranch, and blue whiting can benefit from the reefs.
A sustainable and inclusive partnership
The vision of the partnership between WWF Verdensnaturfonden and SUPERFLEX to restore a minimum of 55 square kilometers of lost Danish reefs will be done in collaboration with municipalities, companies, foundations, and local communities who want to help marine nature in their particular areas.
The combination of nature restoration, art, and architecture will include researchers, marine biologists, political decision-makers, and local residents. The design of the reefs will therefore vary according to the area where they are placed.
The partnership between WWF Verdensnaturfonden and SUPERFLEX was announced on the 5th of November at the awarding of the Crown Prince Couple's Culture Prize, which SUPERFLEX was awarded last year.
About the partnership:
WWF Verdensnaturfonden and SUPERFLEX combine nature restoration, art and architecture in a new and innovative partnership called Super Reef, which connects life in the sea to life on land.
The partnership is based on a vision to restore a minimum of 55 square kilometers of lost reefs in Danish waters in cooperation with the local communities where the reefs are located.
The specific location and financing of Super Reef will be developed by involving local stakeholders, companies, and researchers.
Reefs are essential for biodiversity and the health of the sea. They can increase the amount of fish, seaweed and eelgrass. Seaweed forests and eelgrass are habitats for many species and can contribute to an increased uptake of nutrients and oxygen, which improves water quality. At the same time, eelgrass can remove CO2 from the atmosphere more effectively than forests on land. In other words, reefs are crucial allies in the fight to create healthy oceans.
Life in the sea requires variety and complexity. Therefore, Super Reef will try to mix different structures and materials so that they best suit the local species in different areas.
About the WWF Verdensnaturfonden:
WWF Verdensnaturfonden work to protect and restore nature on land and at sea. In addition to the partnership with SUPERFLEX, WWF is working, among other things, with the energy group Ørsted to restore marine nature with 3D-printed reefs in the Anholt offshore wind farm. In addition, WWF, in collaboration with By & Havn, has set a world record in biohuts – also called fish nurseries – in the harbour of Copenhagen.
Read more about how WWF Verdensnaturfonden works to protect and restore Danish seas here.