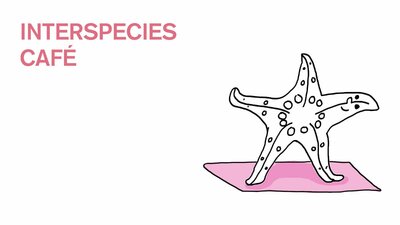 Amidst a global pandemic and growing environmental concerns, it is clear that our human existence is fragile and deeply dependent on the common ecosystem we share with all species on Earth. Interspecies Café is an extension of SUPERFLEX's artistic practice that aims to explore our symbiotic relationship with the natural world to address the pressing challenges of our time.
SUPERFLEX recognizes the power of the collective and, with this, the need for a radically deeper understanding and internalization of multifaceted perspectives. Collaboration and knowledge-sharing play a foundational role in the development of SUPERFLEX's recent works, where specialists across the fields of marine biology, conservation and art have joined forces in order to imagine a future world fit for submersion.
These collaborations have and continue to play a pivotal role in developing SUPERFLEX's interest in Interspecies Living. Interspecies Café thus extends the invitation for engagement at the crossroads between science and art. Through podcast conversations with selected experts: Dr. Alex Jordan, Professor Rikke Andreassen, PhD Fellow Katarina Hovden and certified hypnotherapist Tommy Rosenkilde, SUPERFLEX hopes to encourage dialogue which ponders the possibilities for coexistence in a world that is fit for us all to thrive.
To listen to Interspecies Café visit https://interspecies.superflex.net
Interspecies Café is supported by Statens Kunstfond, Bygningsstyrelsen, and Roskilde University.
Sound engineer: Kruzh'em