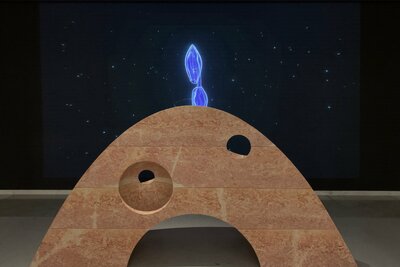 Marmor
Group exhibition at Kunsten in Aalborg, Denmark
March 4 to August 21
The exhibition MARMOR (marble) spotlights how the material is processed, understood and interpreted in contemporary art, and the significance of marble as a material in terms of the content a work of art projects to the world. Featuring Interspecies Assembly and Vertical Migration.
This is the third iteration of "Interspecies Assembly" by SUPERFLEX for ART 2030, which includes the works Vertical Migration developed in close collaboration with Kollision and Interspecies Assembly, developed in close collaboration with KWY.studio.
https://kunsten.dk/en/exhibition/marble-13711

Minimalism-Maximalism-Mechanissmmm Act 3 – Act 4
Group exhibition at Art Sonje Center in Seoul, South Korea
March 17 to April 24
Minimalism-Maximalism-Mechanissmmm Act 1–Act 4 examines how artists use materials to tell stories about their surroundings and daily life. The exhibition creates connections between the artworks and the observer, and examines how the curator can affect the aforementioned relationship between works and audiences. Featuring Free Beer. Supported by Kukje GalleryArt Hub Copenhagen, Art Hub Copenhagen, ASJ C, Brewey 304 and Kunsthal Aarhus.

Lives: Life, Survival, Living
Group exhibition at Jut Foundation for Arts and Architecture in Taipei, Taiwan
March 19 to July 31
In the face of an uncertain global future, LIVES—the 5th anniversary exhibition of the Jut Art Museum—attempts to re-contemplate and interrogate the most fundamental yet radical issues of "life," "survival," and "living." In futures projected at different time scales: whether 10,000 years hence or one second from now, will we remain who we are? Featuring Hunga Tonga and Every End Is A New Beginning.
http://jam.jutfoundation.org.tw/en/exhibition/107/3403

The Sea Is Not An Abyss
Solo exhibition at the Bauhaus in Dessau, Germany
March 31 to September 30
The Sea Is Not An Abyss presents three SUPERFLEX works in the context of the Bauhaus Dessau and the Bauhaus Museum. Resonant with the Bauhaus's inventive use of industrial materials toward egalitarian and ecologically-responsible construction, these works propose a future in which humans design, build, and live in collaboration with other species. As sea levels continue to rise, human constructions will soon be underwater—fish are our future neighbors and occupants of our houses. Featuring As Close As We Get, Vertical Migration, and We Are All In The Same Boat.

New Publication
This book has a cheap price of €9
This book has a market price of €28
This book has an honest price of €150
Publication on the occasion of the exhibition Sometimes As A Fog, Sometimes As A Tsunami at Kunsthaus Graz
How much are you willing to pay for this book? € 9, € 28 or € 150? The buyers of the book become part of a process of value and value generation: Do they choose the bargain with the evaluative addition "cheap" on the cover, do they buy the book at the (subsidised) market price, or do they pay the honest price of its socially and ecologically fair production?
The exhibition Sometimes As A Fog, Sometimes As A Tsunami by SUPERFLEX at Kunsthaus Graz focuses on the speculative nature of financial markets and instruments. The illustrated book places the works on display in a larger discursive context and locates them in SUPERFLEX's artistic practice from its earliest works to the present. With texts by Barbara Steiner, Martin Grabner, Dirk Raith and Steven Zultanski. Designed by Rasmus Koch Studio. Published by VfmK Verlag für Moderne Kunst.
For mor informaton, visit our publications page here.