We Are All In The Same Boat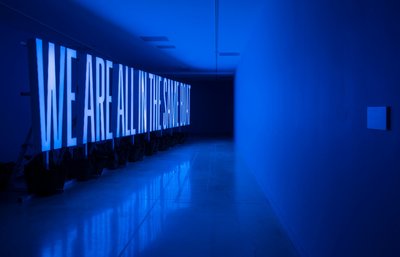 Taking place in the Freedom Tower, a building historically used for immigration processing, We Are All in the Same Boat will raise topics of special relevance to the history, present and future of Miami.
We Are All in the Same Boat is the largest exhibition of SUPERFLEX in the United States up to date. Through a broad selection of paintings, videos, sculptures and installations, SUPERFLEX reflect upon collective issues affecting the city of Miami, always in connection with the global scene. Migration, financial crisis, climate change and corruption are in the center of the exhibition discourse, in order to raise awareness and dialogue on concerning yet common topics in our society.
The expression «We are all in the same boat» alludes to the shared risks and responsibilities of sailing together. In the context of the exhibition, the title reveals the underlying connection between the different works and topics, while emphasising a latent necessity for collaboration and cooperation to confront our common challenges.
Curated by Jacob Fabricius.