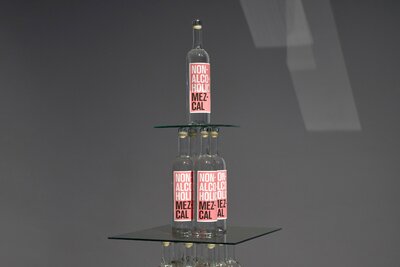 Non-Alcoholic Mezcal has the taste of mezcal but does not contain any alcohol. The formalities of the product are all present: the logo and packaging resembles that of commercial brands, but the essence of the drink – and the risk – is removed. The work aims to empty a commercial product of its substance so that it exists entirely as branding.
It is displayed as a pyramidal tower of bottles stacked on mirrored squares. Resembling a display in a store, the mirrors reproduce the bottles to infinity, so that the vertiginous effects of drunkenness (and commodification) are evoked in the design. The reflections highlight the contradiction between the restraint implied by the non-alcoholic drink and the immoderation of marketing.
In collaboration with Materia Prima and Ayer.