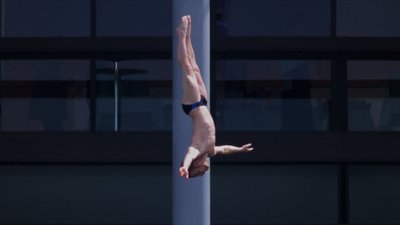 The Mærsk Opera is a documentary collaboration by SUPERFLEX, composer Anders Monrad and journalist Nikolaj Heltoft. A film work in three acts, The Mærsk Opera is based on true events leading up to the opening of one of the most controversial buildings in Denmark's recent history.
The charitable foundation of Denmark's richest man, the late Mærsk McKinney-Møller, donated the Opera House as a "people's gift" to the City of Copenhagen on condition of its placement on an axis from The Marble Church through the Amalienborg royal palace. A debate about artistic integrity, tax deductions and public reception followed the construction process and continues to this day.
The tale of power-brokering that led to the building's completion is told through a combination of documentary filmmaking, music and animation. The film continuously shifts between the perspectives of improbable characters: industrious ants, sonically manipulated liquid, a drifting meteorite, competitive cliff-divers and a dog named Lea.
The Mærsk Opera premiered at the 2017 CPH:DOX, Copenhagen International Documentary Film Festival. The opera score was first presented at the Copenhagen Contemporary Art Center as part of the Copenhagen Art Festival in 2012.
Credits
Director: SUPERFLEX
Composer: Anders Monrad
Librettists: Nikolaj Heltoft & SUPERFLEX
Producer: SUPERFLEX Studio
FILM PRODUCTION
Assistant director: Ribka M. Pattinama Coleman
Editors: Copenhagen Brains, Ribka M. Pattinama Coleman
Color grader: Dicki Lakha
3D animator: Suzanne Soulier
Production coordinator: Huynh Ngo Van Anh
Sound engineer: Rasmus Winther Jensen
Mix cinema: SDI Media
Camera assistant: Thomas Woltmann
Hand actor: Doug Leack
Dog: Lea
Translator: Margaret Malone
CAMERA OPERATORS
Johan Schnéevoigt, Catherine Pattinama Coleman, Huy Tran, Le Tran Trung, Michelle Ruiz
MUSIC PRODUCTION
Sound technician and mastering: Mikkel Nymand
Conductor: Jesper Nordin
Producer: Jesper Lützhøft
SINGERS
Nina Bols Lundgren, Sophie Thing-Simonsen, Rebecca Forsberg, Emil Lykke, Adam Riis, Simon Duus, Morten Staugaard, Bo Nanfred, Morten Lassenius Kramp
MUSICIANS
Christian Westergård (piano), Rikke Sandberg (piano), Tanja Zapolski (piano), Hammond Manuel Esperilla (synth), Anders Monrad (synth), Rune Højmark (steel guitar)
Ekkozone: Mathias Reumert (percussion), David Hildebrandt (percussion), Matias Seibæk (percussion), Mads Hebsgaard Andersen (percussion), Alexander Skjold (percussion)
SUPERFLEX would like to thank
CPH:DOX, Tine Fischer, ATHELAS Sinfonietta Copenhagen, Edithouse, SDI Media, Simon Ellegaard, Caroline Sascha Cogez, Laura Na Blankholm, Danish Composers' Society, Isabella Magnoni, Nanna Balslev Strøjer, Angela Adaix, Malene Natascha Ratcliffe, Soleyman Said, Gry Stangegård Schneider, Anna Barkne, Anne Hofmann Andersen, Mindaugas Reklaitis, Emil Ballegaard, Viktor Harald, KODA's Fund for Social and Cultural Purposes
Produced with support from the Danish Arts Foundation