Beyond The End Of The World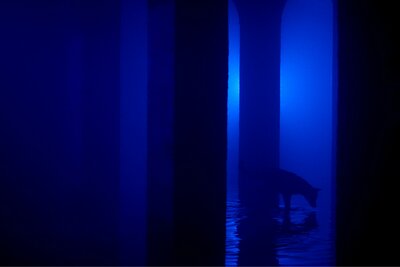 Beyond The End Of The World is a two-channel film installation that presents a world in complete transformation. Humans are gone, our buildings are flooded and decaying, and new forms of life are potentially bubbling up from the aquatic realm.
On one screen, in a cavernous space lit only by a wavering blue light, a solitary dog wanders through the remnants of human infrastructure. It explores this post-human terrain with apparent curiosity, sniffing around in dark corners and trotting through empty maze-like passages: it doesn't appear to miss us. Like a mythical creature, the dog seems like the link between different worlds, seemingly traveling between time and space at ease.
On the other screen, the camera patiently lingers on dilapidated toilets and abandoned sinks. The room is a replica of the toilets of the secretariat for the United Nations Framework Convention on Climate Change. Mouldy surfaces of the flooded toilets suggests the next step of an evolutionary process: algae—the foundation of life on this planet—is thriving, hinting at unpredictable new paths of organic growth.
Beyond The End Of The World does not reveal whether the absence of humans was caused by overconsumption, natural disasters or by other forces, but one thing is clear: life has moved on without us.
Directed by SUPERFLEX
Cinematography: David Bauer, DFF
Dog: Mina
Edit: Copenhagen Brains
Sound design: Philip Nicolai Flindt & Adrian Aurelius / Ballad
Soundtrack: Black Institute
Colour grade: Dicki Lakha
Production assistant: Adam Hermansen
Beyond The End Of The World was filmed at the location of Cisternerne, The Frederiksberg Museums.
Power Toilets was designed in close collaboration with NEZU AYMO architects.