Sometimes As A Fog, Sometimes As A Tsunami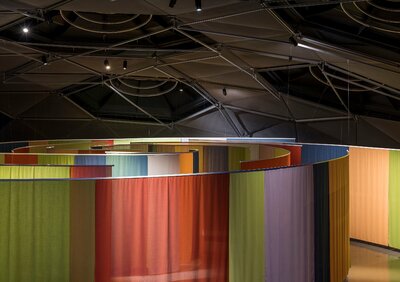 In 2017, SUPERFLEX began a five-year project at Kunsthaus Graz. During this period, one work has been installed in the space each year, all addressing the fetishization of money, the collapse of value, and the economic conditions that constrain cultural institutions.
The cycle concludes with a substantial solo exhibition entitled Sometimes As A Fog, Sometimes As A Tsunami, focusing on the power of economy to dissolve social relations. In this context, capitalism appears as a fluid force that seeps into every crack and corner of the world. The exhibition includes works engaging with the dizzying nature of the economy, works that expand notions of community and aim to open new forms of coexistence between species, and a new film that imagines a post-human future.
Sometimes As A Fog, Sometimes As A Tsunami will be accompanied by a publication that reflects SUPERFLEX's interest in value systems. Buyers of the book will be involved in the process of value generation: the exact same book will be sold at three different prices, so it's up the buyer to decide how it's valued. The content of the book provides insight into the exhibition and places the works on display in a larger discursive context. Designed by Rasmus Koch Studio.
26.11.2021-13.03.2022
Curated by: Barbara Steiner