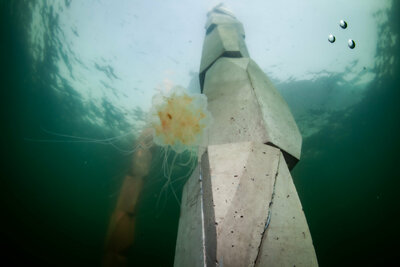 As sea levels continue to rise, human buildings will soon be underwater. For this reason, it is important to consider the needs and desires of marine life in our construction decisions. Fish are the future occupants of our houses. As Close As We Get is a series of sculptures that function as art for humans and as potential homes for fish. Because ocean biodiversity thrives around structures with an abundance of surface area, the modular building blocks of As Close As We Get are designed to feature many flat, irregularly-sized planes. Each sculpture consists of multiple stacked building blocks, forming artworks that can be transformed into underwater infrastructure. Looking beyond human perceptions of time, As Close As We Get utilises materials with wildly various relationships to geological time, from stone to specially-made fish-friendly bricks. Many of these materials have been forged by the earth over the course of millennia, and others are brand new, products of human ingenuity.
As Close As We Get installed in Copenhagen Harbour is simultaneously an experiment, a home for microorganisms, and an artwork. Above the surface, visitors will able to appreciate the artwork from the shore, and below the surface, marine life will find a place to gather. The experiment will be monitored by DTU sustain, who will test the sustainability of the material for underwater construction. The knowledge generated from this research will contribute to SUPERFLEX's larger Superrev project, which is a collaborative plan to build at least 55 km2 of reef in the Danish oceans.
As Close As We Get, 2022 is realized in collaboration with DTU Sustain and By & Havn. The project was supported by the Danish Art Council.
As Close As We Get is part of SUPERFLEX's open-ended research examining the relationship between humans and other species, proposing a new kind of urbanism that reimagines how we live together.
For video of the artwork watch here.