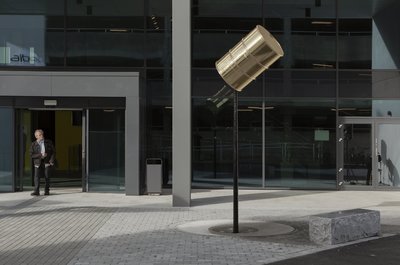 Oil Fountain is a public fountain that takes the form of an oil barrel, tipped on its side and pouring a stream of oil onto the ground. The fountain was originally designed for the town of Haugesund, located on the west coast of Norway. As is the case for the country as a whole, most of Haugesund's current wealth springs from the petrochemical industries, which have dominated Norwegian industrial production since the second half of the 20th century. In the global oil industry, the standard unit of measurement is a 42 US gallon barrel of crude oil. Due to its significance in the global market, the price of a barrel of crude oil is also used as a key indicator in determining current developments in the global economy.
The oil barrel sculpture appears to achieve the magical feat of being suspended in the air as oil streams from it endlessly. This illusion of ever-flowing oil, however, is far less stable than it seems. The substance, which has consistently fueled corruption and catalysed war and conflict, continues to define value. But few things last forever. While the stream of oil might seem eternal, this source of wealth – in Haugesund and elsewhere – might be running dry.
Oil Fountain is a permanent installation in the city of Haugesund, and was initiated by SUPERFLEX in 2008 as part of DYNAMO 08. Designed in close collaboration with Bontec, Denmark.