Every End Is A New Beginning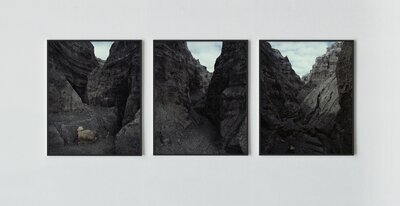 As the polar ice sheets are unable to absorb water from the ocean as a result of high temperatures, sea levels will rise all over the globe as melt water flows into the ocean, leaving large parts of land submerged.
Humans in our current form have roamed this planet for a mere period of 300,000 years – less than 0.01 % of the history of Earth. During our relatively short stay we have managed to create a footprint on the entire ecosystem comparable to that of major natural disasters such as volcanic eruptions, earthquakes and meteor impacts.
A dystopian future seems to approach as the end of the era of humans draws nearer. But from a larger perspective, this finality can be questioned. Throughout history Earth has shown its ability to transgress and redefine life again and again, and will most likely do so in a post-human era.
The photographic work Every End Is A New Beginning depicts what appears to be a barren landscape while in fact it is a magnification of a single sand grain collected the world's youngest island, Hunga Tonga. Devoid of human presence it appears as a memory of a time in the early history of our planet, or a glimpse into a future era beyond us.
The work is one outcome of SUPERFLEX's expedition to Hunga Tonga aboard the ship Dardanella in 2018 as part of a larger research project, Deep Sea Minding, commissioned by TBA21-Academy under the programme The Current.