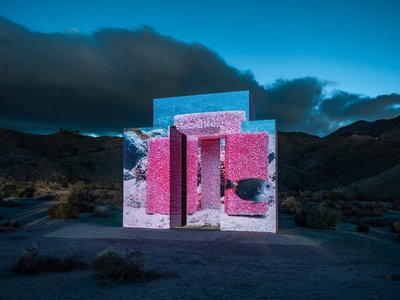 Looking at a future dictated by the advancing steps of climate change, it is not only possible but mandatory to prepare our environment for a migration of the sea onto land.
Dive-In is an encounter across time, elements and species, and constructs a new architectural vocabulary fit for a future of submersion and the beginning of a new era of civilisation - an era of fish.
In proposing an anachronistic encounter between humans and fish, both species interact simultaneously with the same architecture. A meeting point between the present and a most probable subaquatic future, Dive-In is an architectural installation functioning as a drive-in cinema, awaiting to become infrastructure for marine life. In collaboration with Dr. Alex Jordan, expert in Collective Behaviour among fish, several types of structures were tested in order to identify the architectural preferences of marine creatures, one of which is the colour pink, which attracts coral polyps and facilitates the flourishing of a whole new ecosystem. Scenes of fish interacting with prototypes of these structures are projected onto the façades of these pink coral-like walls, inviting human viewers to encounter marine life interpersonally and integrating the desires of fish within the architecture itself.
Dive–In was originally commissioned by Desert X in collaboration TBA21–Academy with music composed by Dark Morph (Jónsi and Carl Michael von Hausswolff).