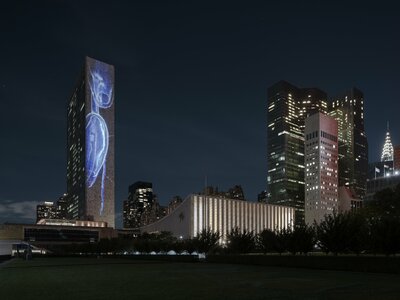 Interspecies Assembly opens during the United Nations General Assembly, seeking to draw attention to biodiversity and the critical role of the ocean—particularly to the region known as the twilight zone—to the global climate.
Interspecies Assembly will feature two public works: a nightly projection of the filmwork Vertical Migration onto the façade of the United Nations' signature glass and marble tower in New York, and the sculptural installation Interspecies Assembly in Central Park's Naumburg Bandshell.
Biodiversity is collapsing, sea levels are rising, and weather is becoming more extreme and unpredictable. Human activity is at the root of climate change, and our unwillingness to listen to the wants and needs of other species is contributing to the Earth's ecological turmoil.
Interspecies Assembly is a physical gathering site that aims to foster friendly relations among species and nurture interspecies living. A series of pink marble sculptures, arranged in a broken circle, demarcates a space in which humans must temporarily slow down and become active listeners to their co-species. If they give up their human exceptionalism and learn to listen, they might recognize the agencies and voices of other life forms. With the aim of enforcing a state of idleness on humans so that other species can flourish, an "Interspecies Contract" is carved into one of the sculptures, encouraging visitors to change their behavior.
The project brings together leading partners from art, science, and policy, including TBA21—Academy, The United Nations, Woods Hole Oceanographic Institution, and Google Arts & Culture.
The project is generously supported by New Carlsberg Foundation, The Obel Family Foundation, The Ministry of Foreign Affairs of Denmark, The Ministry of Culture Denmark, Beckett Fonden, and The Danish Arts Foundation.
Vertical Migration is commissioned by ART 2030 and TBA21–Academy, and supported by Avatar Alliance Foundation, Dalio Philanthropies, OceanX, in partnership with Woods Hole Oceanographic Institution, New Carlsberg Foundation, The Obel Family Foundation, Beckett Fonden, and Danish Arts Foundation.
The Interspecies Assembly project was developed in close collaboration with Kollision and KWY.studio.
With thanks to the United Nations Department of Global Communications and the Consulate General of Denmark in New York.